You'll want to consider your budget and how much space you have when deciding on the type of store. When it comes to a restaurant-style store, the design should incorporate great front ordering and back kitchen and prep areas.
Many people nowadays have limited budgets and can rent out space that they could previously only afford while owning a store. One option is to rent a food truck, kiosk or mini-bubble tea store, which often comes in 15ft x 10ft.
In this article, we will give you some insights on how to design your bubble tea shop and some example of design!
Bubble Tea Store Design
You can adjust a few things before starting the kitchen design. If you want to build a functional, attractive space, ensure your equipment is easy to reach and does not get in the way. You can move on to detailing later! The law requires employers to provide a safe environment for employees, and there are regulations about how much space an office has to alto perform their work comfortably.
To host and serve customers at the table in a classic sample space, a boba tea kitchen and store should be at least 15 x 10 ft. This allows the kitchen to use all of its machinery and space while keeping the flow of cooking, making it essential. They can also customise drinks in two separate locations, which improves the speed of service.
To better serve customers and help keep costs down, a tea company should keep just the machinery needed to make tea near the point of sale. This means shakers and pasteurisers can be on the counter near the point of sale, but not in the way or behind brick walls or anything.
Bubble Tea Kitchen Design
One of the most important things to consider for a bubble tea kitchen design is having the right equipment. Proper setup will ensure you can continue to make delicious drinks without worrying about repairs or breakdowns.
These items are necessary to prepare boba tea the right way. The stove will be used to make the tapioca pearls and the boiling water, while the shaker, sealer, and fructose dispenser will release a specific consistency and flavours and put the final touches on your sealed cups. Whether you want to offer customers a variety of milk teas, you need a refrigerator to keep your mixtures fresh and excellent between drinks.
If you're serving your cooled teas in cups, a shaker machine is essential to ensure your drinks are mixed well, and sealers significantly reduce plastic waste when preparing syrup. No one likes it when they can't get the right amount of sugar in their drink, and that is where this store owner's fructose dispenser comes in. It will take care of all the different types of fructose your beverage may need, so you'll never be mixing & matching again.
Consider having sinks installed in kitchens to help employees wash their hands and clean up spills. These can prevent problems in the long run, so pay close attention to this installation process.
Bubble Tea Shop Electrical Requirements
Another essential part of having a kitchen is ensuring you have an up to date electrical system. If your fundamentals aren't in order, you could experience power outages, malfunctioning equipment, and other significant problems.
A tea shop brewer is a device that brews hot water automatically when the lid is removed from a pot. These devices require specific wiring and must be plumbed into an existing system. However, they can provide a direct water source for other things in your business if you don't want to go through the expense of installing a new system.
Bubble Tea Shop Health Department Requirements
Ask your local health department to help you determine how many sinks need to be installed in your kitchen. There are usually at least a few designated for handwashing, and the rest should typically double as drainage areas.
Top 3 Best Bubble Tea Shops
Bubbles follow in the footsteps of new beverage trends, and Taiwanese bubble tea has already taken over cafes worldwide. It's only natural for such a refreshing drink to make you feel more alive. Here are a few interesting and unique designs for bubble tea stores that use various materials and custom elements to create a memorable brand and lure in customers.
Kung Fu Tea Boba Tea Store Design
As a solids franchise, this bubble tea shop located at Carmel Mountain Gateway Plaza in San Diego needed a modern upgrade to attract sophisticated local customers. Mindful Design Consulting focuses on keeping the core elements of the Kung Fu brand (black and red) and creating simple design solutions.
Often, geometric designs are ideal for store walls because they are easy to recognise and often generate a unique look. The pattern repeats in the counter design, which was implemented to accommodate clients who enjoy an artsy aesthetic. Today, it's easy to use a long commune table to accommodate larger groups of people, create opportunities for socialising and even encourage new relationships. Modern chairs and lighting fixtures using your brand colour will help define functional areas while giving a more distinctive character to the space.
Can't Top This Yogurt and Boba Tea Store Design
Mindful Design Consulting has a clear set of principles for advancing design and enhancing customer experience. This store uses colour and design to connect emotionally with people visiting it. The bright colours such as pink, orange, and purple help to define both the functional areas and architectural details while still creating a harmonious dance of colour.
The unique design of this store is meant to reflect the elixir that it provides for both body and soul by using primary colours to create various shapes. The tiered soffits, curved walls and scattered circles are meant to ensure its atmosphere exudes warmth. The bubble tea theme is always on-point with a "sonic" cut-out design that reminds customers of the drink's frothy bubbles and tapioca pearls. Customised wall graphics use the brand colours to suggest the variety and aromas of frozen yoghurt flavours.
Biju Bubble Tea Room Design
Modern seats in London's Biju Bubble Tea Room are a cork terrace that gives it an informal and unique feel. This design concept is based on tea drinking and how it has become a perfect way to socialise and make friends. Customers have a lot of flexibility in where they sit, whether in groups near one another or with their laptops on the table. They can choose from round groups sharing a coffee or triangles that are much more intimate. Cork stools provide more seating options for those who prefer to be seated at the table.
When arranging your furniture, they use colours to create a "fresh" or "balanced" setting—Recruit striped wall patterns behind brick walls, which allow patches of colour in the room. The colour choices in and of themselves are very appealing. You can also see craftsmanship and creativity coming through as natural ingredients like strawberries, watermelon, and olives are used to make drinks.
Conclusion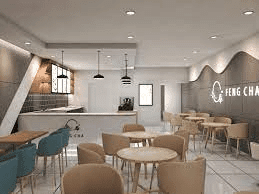 Boba, or bubble tea, is famous and delicious. It began as a Taiwanese drink and spread through Asia in the 1990s. Bubble Tea became an international phenomenon. It features tapioca balls or pearls. It can also be made with milk.
Entrepreneurs are creating boba tea in many different shapes and forms, making them incredibly popular for the countless numbers of people who love them and the entrepreneurs themselves. A few key factors to consider when starting a new business are related to extended opening hours that may affect your image if not appropriately managed.
Your boba tea design needs to be simple. Simplicity is essential because you have a lot going on with your machine, and it would be difficult to get real work done if too much distraction was present.
FAQs
Who is the target audience for bubble tea?
There is no one answer to this question. It depends on the type of bubble tea that you are looking for.
For example, if you want a bubble tea with milk, you might be targeting children. If you want a bubble tea with fruit juice, the target audience might be more health-conscious. The target audience for any given product can change depending on the time of year or even what time of day it is.
How do I promote my bubble tea business?
When it comes to promoting your business, there are many things that you can do. You can use social media platforms like Instagram, Facebook, and Twitter to advertise. You can also use direct mail marketing to reach your target audience.