There is no denying that bubble tea is here to stay, and for a good reason – it's delicious and fun, and there is a wide variety of flavours to choose from. Get boba tea lovers one of these awesome bubble tea kit gifts, so they don't have to go to the mall every time they want a drink.
You might also want to buy these for yourself-and there's nothing wrong with that! You can always treat yourself to a cup of boba, but it's not every day you see a cute-looking boba-inspired item.
It can be overwhelming to find the perfect boba gift or idea for a boba milk tea lover, especially if you're not a boba fan yourself. No need to worry because we have prepared a list of random bubble tea-themed gifts you can get for a boba lover!
What Is Bubble Tea?
It's okay if you don't know what boba milk tea is, but if you're looking for a bubble tea-themed gift, we're here to help!
There are many twists you can add to boba tea, including flavoured boba toppings and soft and chewy tapioca pearls. There are multiple ways to make bubble tea: Buying a store-bought one, making one from scratch, and buying a kit. In addition to the great texture that boba balls give to the drink, boba can be manufactured in a variety of flavours. You can experiment with any type of tea flavour you like, such as honeydew milk tea, jasmine or strawberry, matcha or oolong. Taiwan served bubble tea as iced black tea with milk, called the Classic Milk Tea, as the first cup of bubble tea. Among the boba tea enthusiasts, there are thousands of choices now.
Having learned what bubble tea is, you can now find the perfect gift for your favourite boba fan!
Boba Themed Gifts
Bubble Tea Earrings
These awesomely cute earrings would make it easy to express your love for them if bubble tea is their new favourite drink. It's stylish and extremely unique, perfect for boba lovers who have a bold fashion sense. This gift is definitely for the ones who are not-so-subtle with their love for boba. Get it here.
Boba Plushie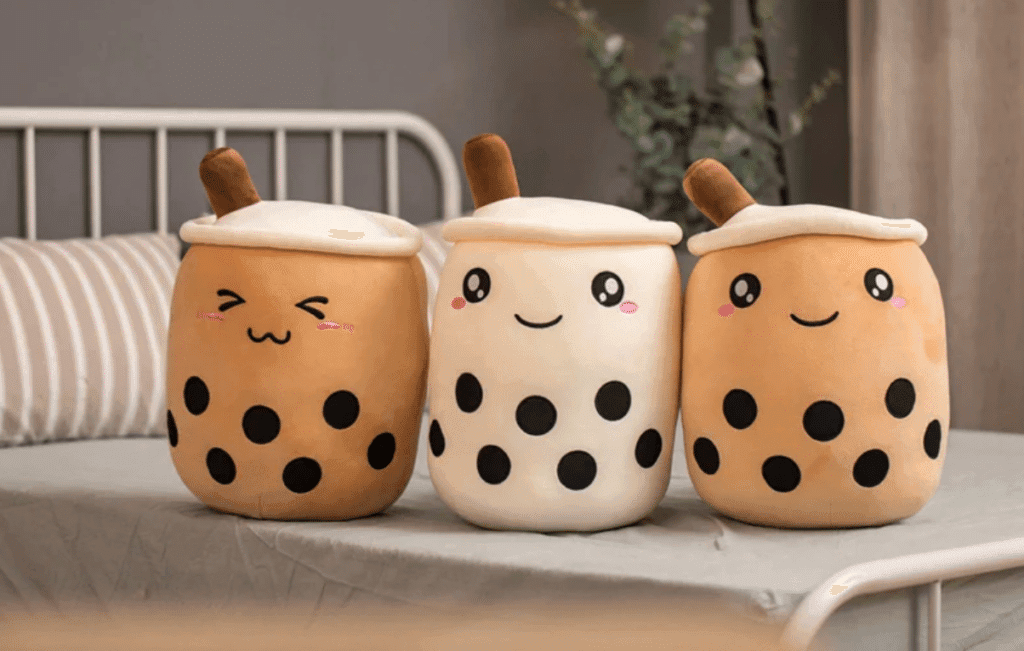 There are two different options when it comes to these super adorable plushies: Smiley and Kawaii. There is something charming about both of these designs, and both would make charming gifts. 
Just like boba tea, this plushie comes in different colours. There is only one colour available for the Kawaii plushie, and there are two for the Smiley plushy. Don't let this discourage you because these toys are gorgeous in all colours.
These plushies are so cute that they might just end up in your possession even if you do not like boba! Check this out here!
Boba Mini Fridge
Do you want to take a special boba fan to the next level? The bubble tea mini fridge is the next gift on our list of bubble tea-themed gifts. We definitely agree that it is the perfect bubble tea gift. Mini fridges like this one are both practical and stylish. A premade bubble tea can instantly brighten up your mood, especially when you can grab it from the fridge!
Wouldn't it be great if you could keep your favourite boba drink in your own personal boba fridge? Bubble tea lovers will be thrilled with this!
Bubble Tea Pins
These awesomely colourful pins in the shape of bubble tea cups will make them smile every time they wear them. A cute 1″ x 2″ acrylic pin featuring multi-coloured drinks and straws to represent whichever pride matters most to them. Unlike the bubble tea earing we recommended earlier, this item is more subtle. Decorate your plain bag or your denim jacket with this accessory! Get it here.
Boba Stickers
A perfect addition to any craft for boba lovers, boba stickers are a cute way to express your love of the drink! Stickers can be put anywhere-your a journal, or laptop, or you can even put them on your favourite reusable boba cup! Unleash your creativity by decorating your favourite items with boba stickers. You may grab one here!
Boba Phone Case
What better way to show off your love of bubble tea than with a phone case? There are boba lovers everywhere, and their obsession with bubble tea is no secret, and they would want the world to know by using a phone case. There are different sizes for this design, and all materials are sustainably sourced. When they use their phone, which is every minute of every minute, they'll always remember you. And they'll always remember you when someone compliments them on their case.
Boba Essentials
Have trouble finding the perfect boba item? No worries. You can still get a gift for a boba lover! They won't be able to resist these gifts, we promise.
Consider giving them an actual bubble tea essential instead of a bubble tea-themed gift. Our suggestions are as follows:
Boba Cup
Every week, we drink a few cups of bubble tea. We cannot ignore the fact that plastic cups and straws are destroying our planet! However, if we use reusable bubble tea cups, we can stop this from happening.
With a capacity of 17 ounces, it can hold either cold or hot boba tea drinks. In addition, it has a double-walled insulated design which makes it a perfect choice for use at home or in the office. This product features a sleek, durable design that can be used over a long period of time. In addition to keeping drinks at the perfect temperature, it also looks great. The cup itself is transparent-allowing you to see your boba drink. But if you wish to be a little stylish, you can choose to spice it up with a boba milk tea sticker!
This reusable cup contains no harmful chemicals since it is made of BPA-free material. Drinking is as simple as popping open the top. It also comes with a collapsible straw that you can keep inside the cup after use. 
Bubble Tea Straws
These reusable metal straws are perfect for a drink as special as bubble tea. The mermaid or rainbow iridescence pack will be a great way to reduce plastic waste while drinking their boba. Combining these environmentally friendly straws with reusable boba cups makes the perfect combination!
Bubble Tea Kits
What else could go wrong with gifting a boba lover with a DIY Bubble Tea Kit? Nothing!
Bubble tea kits are perfect as they contain just the right amount of everything you would need. Typically, a bubble tea kit would include the tea (which may come in a tea bag or an instant bubble tea mix), a pack of tapioca pearls, a cup, and a boba straw. It usually doesn't come with milk, so you can choose the milk of your choice for your boba tea. It's like an instant bubble tea mix that you can make any time at home.
A bubble tea kit will allow a boba milk tea lover to make their DIY boba at home. It's a fun activity, so maybe you can accompany your friend too and have a boba tea party together!
Conclusion
You shouldn't be having a hard time picking gifts for a boba lover. A lot of items today are designed after this popular drink that's how far the world craze for boba milk tea has come! Never go wrong with our lovely boba gift recommendations. We hope this article helped you think of the best gift ideas you can get for a boba lover!